Julia Nelson served as teen services librarian at Burnaby Public Library from 2010 to 2013.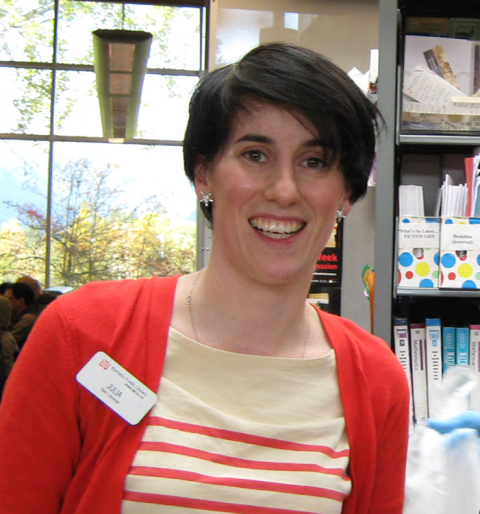 Prior to taking up her position with BPL, Julia worked at the New York Public Library, Fraser Valley Regional Library's Terry Fox Branch and the Coquitlam Public Library.
A dedicated advocate for young adult collections and programs, Julia was deeply interested in teen literacy and believed that libraries were safe havens for teens to explore their interests. She enjoyed working in partnership with high schools and loved designing interactive programs for young adults to help them discover their abilities and talents.
Julia lost her life in October 2013 after a six-month battle with leukemia. Her cheerful personality and her genuine enthusiasm and obvious passion for youth have left an indelible mark on Burnaby Public Library, its employees and the patrons and the community she served.

The Julia Nelson Trust
Named in honour of Julia Nelson, the trust supports teen services at Burnaby Public Library.
The Julia Nelson Trust was established by the Burnaby Public Library Board with the support of Julia's family, friends, and co-workers in recognition of her contributions to library services for teens. The trust is a way to honour Julia as well as give a gift that keeps on giving to the community in a truly meaningful way.
The trust is held within the Burnaby Public Library Endowment Fund. Donations to the trust are invested on behalf of the Library by the City of Burnaby. While the principle remains untouched, the interest generated is used to support Teen Services.

Teen Services
Burnaby Public Library is dedicated to cultivating a love of reading, encouraging lifelong learning and creating opportunities for community engagement for teens. BPL's Teen Services offers a wide range of collections, programs and services focused on Burnaby teens in grades 8 to 12. Teen services librarians serve all areas of Burnaby and provide vibrant spaces and collections for teens, both online and in the branches.