Visiting Bob Prittie Metrotown During Renovations
Bob Pritte Metrotown renovations have been delayed due to unexpected building issues and supply chain delays. We expect the renovations to be completed by mid-2023.
The branch is open with regular hours during renovations. Browsing, computers, printing, indoor seating and other in-person services are available. When you arrive, parts of the building will look a little different:
There is one temporary entrance and exit, through the holds pickup room next to the Civic Square entrance. The main library entrances at Civic Square, Willingdon Avenue, and lobby access from underground parking are closed throughout the renovation.
Washrooms and a drinking water fountain are available on the second floor of the library. There is also a temporary accessible washroom outside the library, on the surface parking lot of Civic Square. First floor washrooms are scheduled to open in early 2023.
Returns can only be accepted during regular hours. Drop off items at our holds pickup room next to the Civic Square entrance. All external library returns at this location are closed throughout construction. You can return items at other BPL locations using the external library return, open 24 hours. BPL items can also be returned at other InterLINK libraries throughout Metro Vancouver.
Please note that some areas of the building are inaccessible and there may be intermittent noise due to construction.
Thank you for your patience during this phase of the renovation.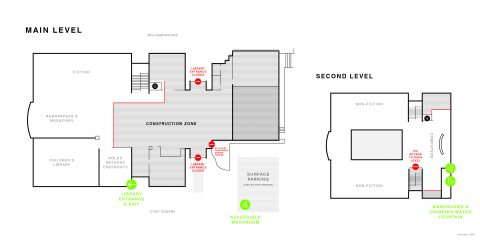 Bob Prittie Metrotown floor plans during construction
Last updated: January 4