All News
Bob Prittie Metrotown Renovations Beginning Summer 2022
Jun 1, 2022
BPL's largest and busiest branch is evolving to meet the needs of our changing community.
We know that people are increasingly turning to the library for technology support, to connect with others and to make use of common space. With the renovations, we are working to ensure that Bob Prittie Metrotown will continue to support the growth and development of the community for years to come.
Renovations will begin in late spring and continue continue in 2022 and 2023, and we'll be posting updates before and during construction on our website. Here's what's new, and what's changing: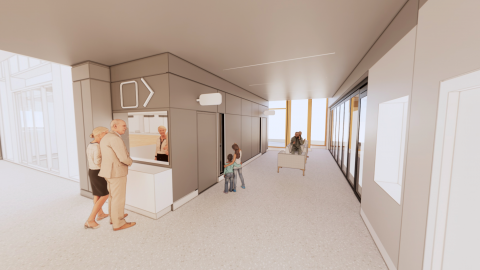 Digital studio
We're building a digital creation space that will house a variety of technology, including recording studios, digitization tools, and video, audio and photo editing equipment. Formerly a storage area, the digital studio will also be home to technology-related classes and workshops.
Expanded seating
We're creating a community living room inside the library, by expanding the existing lobby and adding extra seating. Browse for books in our nearby "grab and go" shelves, take a seat, and get started (or lost) in a new read.
First floor computers, printers and scanners
We're installing computers, a printer and scanner on the first floor for increased accessibility and convenience. Quickly log into your email or print a document without having to visit the second floor.
Automated materials handling system
In 2021, Bob Prittie Metrotown staff checked in over 810,000 returned items. For our staff, a new automated system means more time to help people in the library and the community, and fewer injuries from handling large volumes of material. We'll also be able to get materials back onto our shelves, and to you, more quickly.
More washrooms
For our patrons who like to work or study upstairs, great news: we're building four, accessible single stall washrooms on the second floor. These gender-neutral washrooms will be in addition to the washrooms on the first floor, which also will be renovated.
Building and service updates

We're looking forward to welcoming you to the new spaces at Bob Prittie Metrotown and want to acknowledge that there is much work to do before we get there. While we don't know yet the day-to-day impacts of the renovations, we do know that there will be temporary disruptions at the branch during construction phases. For our patrons and staff, we'll be doing our best to work around and minimize any disruptions to spaces and services.