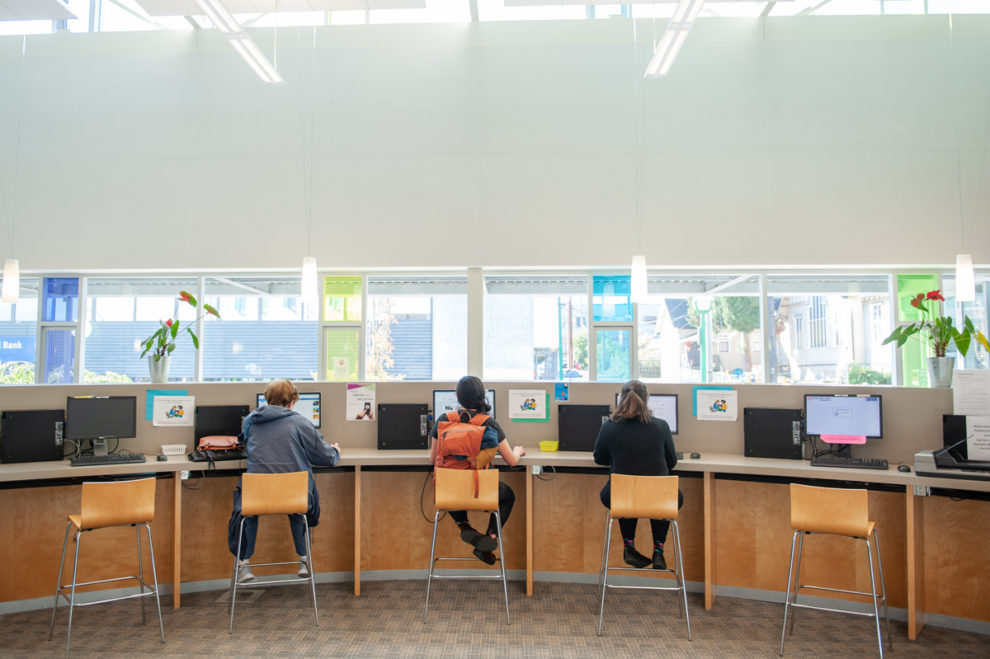 All of our branches have computers available for public use. Log into a computer using your library card and PIN. Use any computer that isn't being used or reserved.

How long can I use a computer?
During COVID-19, we may need to shorten or lengthen computer sessions based on how long we can allow visitors to stay in each location. Get the latest information about in-library services.
How do I reserve a computer?
You can reserve a computer at Bob Prittie Metrotown. Log in with your library card number and PIN to make, change, or cancel a reservation. We'll hold your computer for up to five minutes after your reservation begins.

What's included?
Each computer has:

Internet access: Chrome, FireFox, Internet Explorer
Windows 10
Microsoft 2016: Word, Excel and Powerpoint
Adobe Acrobat Reader
DVD and CD player and writer
USB ports
Google Earth
Black-and-white printer access
Is my information safe?
We permanently delete all user data between sessions as per City of Burnaby's IT Policy. This includes deleting your internet browser history, passwords, and any files stored on the computer. Your browsing history and files can't be restored once your session ends.
See Internet access under our privacy board policy to find out more.
Assistive Technology
All public computers have Microsoft Accessibility features that include
A screen reading app
A magnifier
An on-screen keyboard
On the second floor of the Bob Prittie Metrotown branch, there is a low-vision reader workstation, to magnify pages.